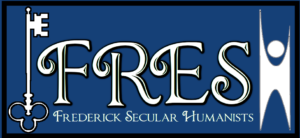 Frederick Secular Humanists
We're a social and advocacy group in Frederick, Maryland that promotes fellowship and networking through social and community building activities. Our membership includes atheists, agnostics, humanists, freethinkers, and the otherwise "unchurched," as well as scientific skeptics, critical thinkers, and like-minded individuals as well as our friends and family.
Our primary purpose is to provide a community for secular persons in the Frederick area. We do this through regular meetings, often with speakers talking about secular and science topics, movie nights, social gatherings, community service projects, and community outreach. All events are announced on our Meet-up page.
Chapter Coordinator: Heatherly Hodges (fresh@wash.org)
Upcoming Events:
June 3rd 12:30 – 3:30 p.m.: Co-Sponsoring a Drag Queen Story Hour with the Frederick Center, Hood College Library.
June 24 11:00 – 6:00 p.m.: Tabling at Frederick PRIDE, Carroll Creek Park.
June 25 1:00 – 3:00 p.m.: Monthly Meeting featuring Allison Gill, legal counsel for American Atheists, C. Burr Artz Public Library.
July 23 1:00 – 3:00 p.m.: Monthly Meeting featuring Nadya Dutchkin, former director of the American Humanist Association, C. Burr Artz Public Library.